Open A Business
Opportunity Awaits…
Downtown Carlisle Welcomes YOU!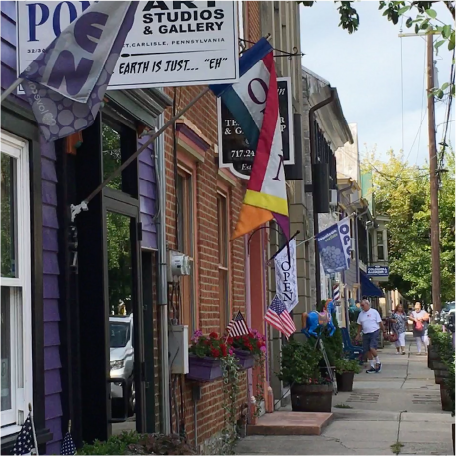 RICH IN HISTORY, ARTS & CULTURE
Aside from our charming scenery and gorgeous historic architecture, Carlisle boasts unique boutiques, antique and artisan shops, galleries, specialty restaurants, craft breweries, distilleries and so much more!
LOCATION, LOCATION, LOCATION
With its proximity to the Pennsylvania Turnpike and Interstate 81, downtown Carlisle is positioned to attract visitors from the major metropolitan areas of Pennsylvania, Maryland and Washington, DC.
SIGNATURE EVENTS BRING VISITOR
Carlisle Events hosts nearly a dozen car shows and swap meets that bring more than 500,00 visitors annually.
Carlisle Summerfair has been kicking off the sunny season almost 50 years with a week of family-friendly activities in and around the downtown.
The Downtown Carlisle Association proudly hosts the Harvest of the Arts festival, Ice Art Fest, the Molly Pitcher Birthday Bash, Hotchee New Year and several parades which bring tens of thousands of visitors each year.
Farmers on the Square offers a weekly outdoor market in the downtown for both locals and visitors to enjoy year-round.
TRAINING AND HIGHER EDUCATION
Located at the Carlisle Barracks, the U.S. Army War College is the second oldest army post in the United States. Carlisle is also home to the U.S. Army Heritage and Education Center, Dickinson College, the Penn State Dickinson School of Law and the Central PA Youth Ballet.
To learn more about our available storefronts and prime office space, contact the Downtown Carlisle Association at 53 West South Street, Carlisle, PA 17013 Call 717-245-2648 or email [email protected].