Visiting Details
Details About Carlisle
As a hub of commerce and tourism, Carlisle, located in South Central Pennsylvania, is part of the Harrisburg-Hershey-Lancaster-York-Gettysburg Metro area. With its close proximity to the PA Turnpike and I-81, Carlisle is a convenient day trip from New York, Philadelphia, Pittsburgh, Baltimore and Washington D.C. Higher learning is in the forefront of this Preserve America Town, as it is home to Dickinson College, Penn State Dickinson Law and the Army War College. Only a short drive from many other colleges and universities, as well as military bases, museums, national history parks, theme parks and the Pennsylvania State Capital, there are many reasons to spend a few days (or more!) in Carlisle.
Stay with us in a traditional hotel or a hometown Bed & Breakfast and experience the friendly atmosphere of an American small town at its best!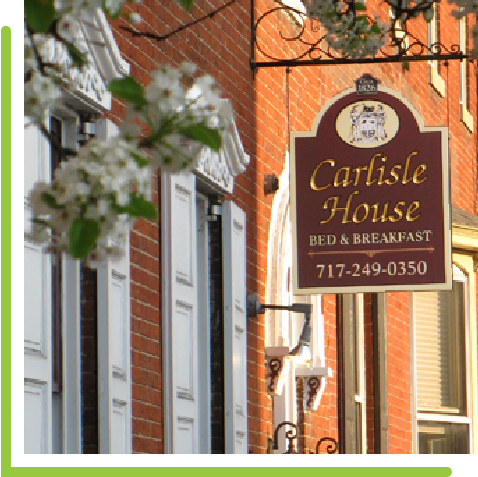 Carlisle House B&B
Located just a half-mile from I-81 and 3 miles from I-76 (the PA Turnpike), this beautiful award winning property is the only Bed and Breakfast located in the downtown Historic District of Carlisle, Pennsylvania, and the only Select Registry, Distinguished Inns of North America in the Cumberland Valley. Known for its delicious and bountiful breakfasts featuring fine English teas and international themed quiche, freshly baked each morning of course, this elegant 1800's era home is a repeat stop for many guests each year. Carlisle House is within convenient walking distance of more than 20 restaurants, downtown shopping and attractions in the heart of Carlisle. So, should you be traveling for business or pleasure and your journey brings you to Carlisle, be sure to stay at the "Best of Carlisle" B&B, one of the top three in Pennsylvania on TripAdvisor.com, one of NBC Washington's Best 10 Weekend Getaways AND one of USA Today's 10 BEST Harrisburg Hotels!
Comfort Suites Downtown Carlisle
Conveniently located in historic downtown Carlisle, within walking distance to unique shops, attractions and Dickinson College. Welcome, Car Show enthusiasts, U.S. Army War College students and all guests exploring the beautiful Cumberland Valley!
2015 Best in the Valley Winner.
"This is my favorite place to stay in Carlisle. The employees are always gracious and helpful and the food is wonderful." – Joshua L.